EV porcelain pavers are made up of high-grade porcelain. These unique paving slabs meet uncompromising standards of durability, stain resistance and require no maintenance or sealing. The wide range of modular sizes allows you to create multiple patterns adding a customized look to your project,
Our supplier has been pioneering 2cm porcelain technology since 2009 with commercial and residential installations in climatically challenging environments worldwide. Proprietary patented processes were developed to maximize recycled content while maintaining uniformity throughout the slab.  The highest-grade materials are fired at 2240F yielding a superior density with unmatched performance characteristics. 
The range of designs was inspired by nature. Building blocks of civilization like Travertine, Quartz and Reefstone are painstakingly replicated and are almost indiscernible from their natural counterparts.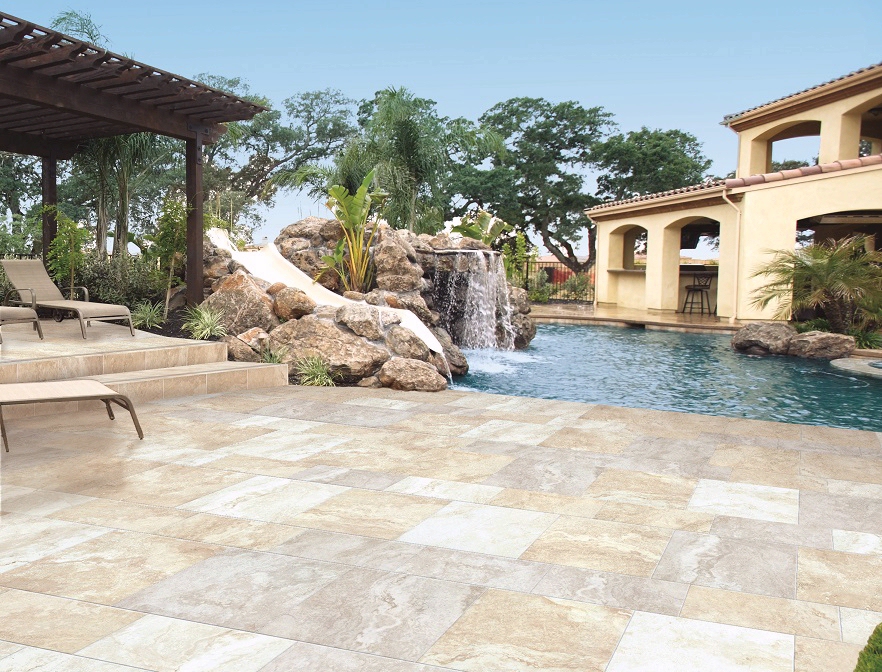 Our product lines include 2CM porcelain pavers, 3CM porcelain pavers, pedestal system that works with these pavers, and a patent pending wind lock down system that works with most of the existing pedestals.
EV porcelain paver and pedestal system is the only system that has been approved by the City of Los Angeles for heights above 22″ (up to 52″).
EV porcelain pavers are perfect for:
Driveways, entrance ways,  roof tops, pool decks, patios, promenades, public spaces, steps, walkways, back yards, and parking lots.