Adjustable Pedestals and wind uplift system
EV Pedestals are plastic adjustable pedestals mainly used for paver tiles and decking joist support.  EV Pedestal has the widest height range in the industry. It supports heights from 1/2″ to 52″. And it is the only pedestal system approved by the City of Los Angeles for heights above 22″ (up to 52″).  EV Pedestal is UV-stable, salt mist-resistant, and fire-resistant (CC1 rating). 
Advantages of EV Pedestals
Wide heights range: from 1/2″ to 52″ ;
1/16",1/8",3/16",5/16" and 3/8"  paver spacer tabs;
Decking Cradle fit any joist size 3/4″ to 3.15″;
Does not damage waterproof membranes;
Allow for positive drainage and ventilation;
Absorb sound and increase temperature insulation;
Compensate ground slope;
Easy to install.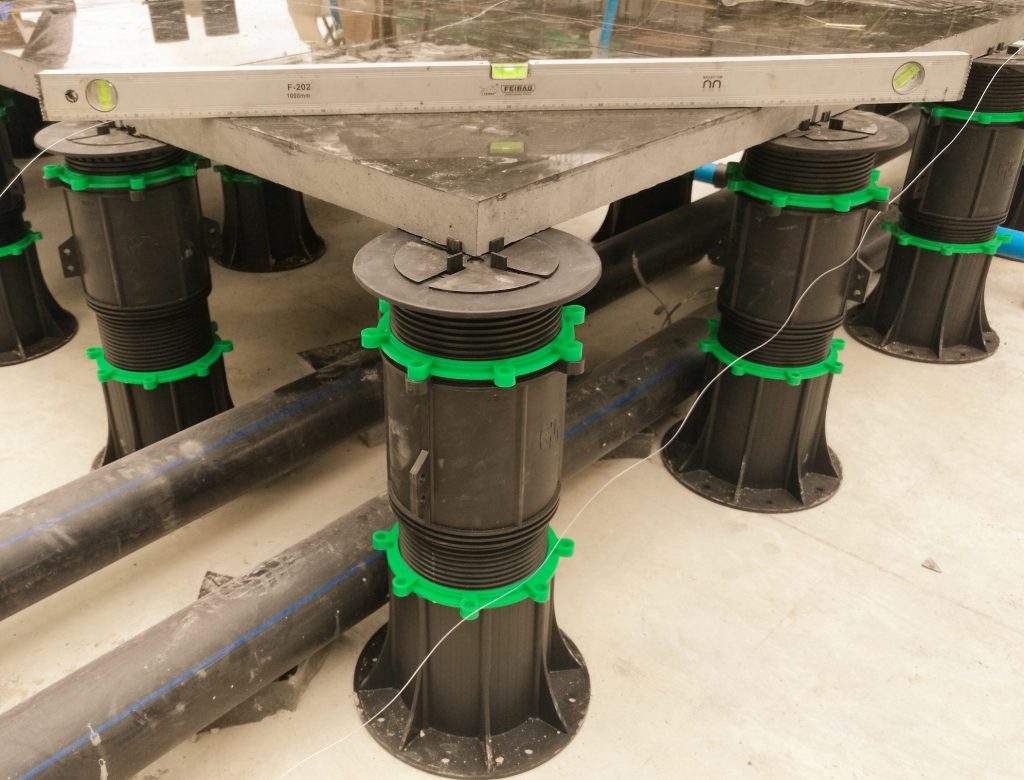 Patented WIND UPLIFT (EV 2nd Generation Wind lockdown ) system

Approved by LADBS, City of Los Angeles (LARR # RR26122)
Non-Visible, No screw needed, Easy to Install 
We will laser cut steel plates to any size and any shape to fit your need
EV  Wind Uplift System consists of a self adhesive galvanized steel plate that has four tabs, and a modified plastic spacer disk that has four L-shaped sliding spacers. Each of the four L shaped sliding spacers can be moved to the position on top of a tab to lock down the tab.  The modified spacer disk is placed on top of a regular pedestal.  Once the galvanized steel plate is locked down to the pedestals, the paver is placed onto the glue layer which is on the galvanized steel plate.
The patented EV  Wind Uplift System has passed Class 90 in UL-580 Test. (Maximum combined uplift pressure of 105 psf and 188 mph wind.)
The pictures below show self-adhesive galvanized steel plates with glue layer, and the modified spacer disks with L-shaped spacers.
Protective film is peeled off from the SBS glue and pavers are placed on top of  the glue layer.