EV Pedestals
and Patent Pending wind lockdown system
EV Pedestal is a plastic adjustable pedestals mainly used for paver tiles and decking joist support.  EV Pedestal has the widest height range in the industry. It supports heights from 1/2″ to 52″. And it is the only pedestal system approved by the City of Los Angeles for heights above 22″ (up to 52″).  EV Pedestal is UV-stable, salt mist-resistant, and fire-resistant (CC1 rating). 
Advantages of EV Pedestals
Wide heights range: from 1/2″ to 52″ ;
1/16",1/8",3/16",5/16" and 3/8"  paver spacer tabs;
Decking Cradle fit any joist size 3/4″ to 3.15″;
Does not damage waterproof membranes;
Allow for positive dranage and ventilation;
Absorb sound and increase temperature insulation;
Compensate ground slope;
Easy to install.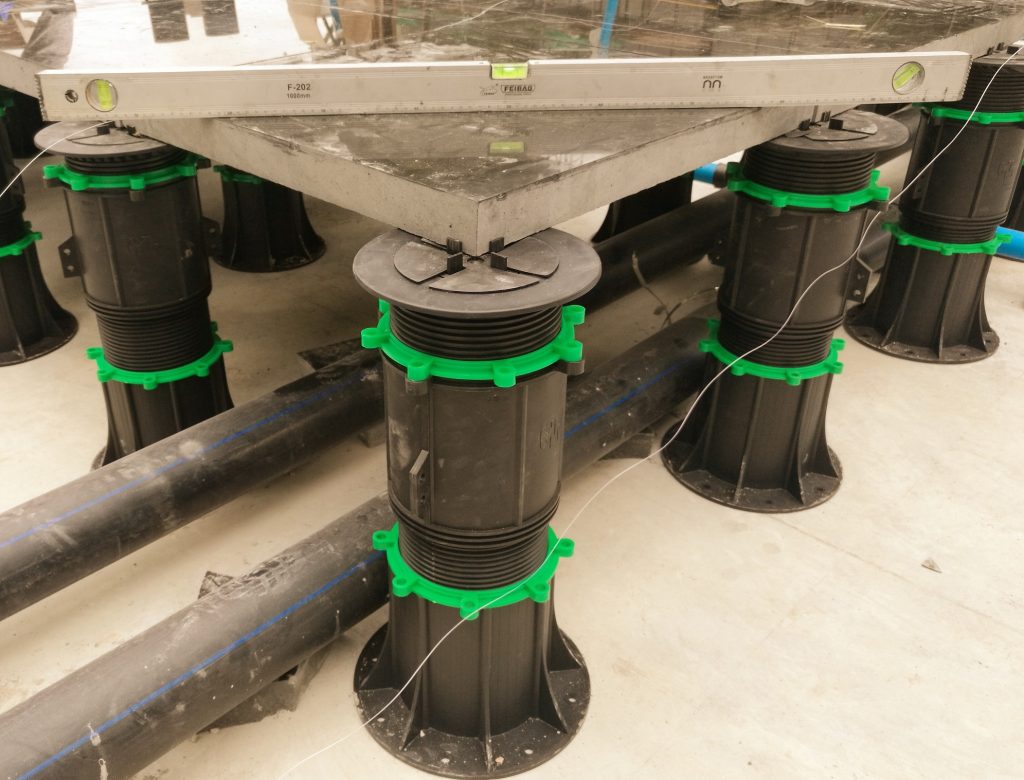 EV Wind lockdown system (patent pending)
EV Wind lockdown system consists of galvanized steel sheet that is glued to the back of pavers, and stainless steel parts that can be attached to existing pedestals which allow the galvanized  steel sheet to be fasten down to the pedestal.
Pavers with EV Wind lockdown system can be easily removed with a screw driver if access to the area below the pavers is needed.
Unlike some competing products that require visible holes on the surfaces of the pavers,  all the parts of the EV Wind lockdows system are hidden below the surface of the pavers.
Unlike some other competing products that reply on screw in the plastic screw hole to lock down the pavers,  which is not reliable since the threads in a plastic screw hole is too thin and too weak,  EV Wind lockdown system relies on steel parts to lock the pavers down.